Welcome to the 14th Annual Straight Shot Sporting Clay Event!
This incredible event sees over 200 Oil & Gas, Construction, Banking and other industry shooters teaming up on Friday, August 9, 2019 at Colorado Clays in Brighton for a day of friendly clay shooting competition, stopping at each of the 15 stations to test their skill on the targets, while building industry relationships. On Saturday, August 10, 2019 we host an official NSCA shoot, which is scored individually. Join us for one or both days!
The Sporting Clay Event is all about the goodness in people who want to make a difference in the lives of Coloradans in-need by helping Ability Connection Colorado (ACCO) provide critical programs & support services. Eighty-nine cents of every dollar raised goes directly into the programs & services offered by Ability Connection Colorado.  
We invite your business to sponsor the 14th Annual Straight Shot Sporting Clay Event – guaranteeing your company's name is spot on at the straightest shoot in town!  
Your participation is good for YOU because… 
It is a great opportunity to meet new friends, clients and future customers.

It creates winning exposure for your company among industry peers.

It is tax deductible (minus provided goods/services).
MAIN SHOOTING EVENT
Friday August 9, 2019
9 am – 6:30 pm
Shooting Games with Prizes
Appearance by the Denver Broncos Cheerleaders
Sponsored Lunch
15-20 Station Shooting Course
Live and Silent Auction
Scotch & Cigar Networking Party
Halliburton BBQ Dinner
Awards
NSCA INDIVIDUAL SHOOT
Saturday August 10, 2019
10 am – 1 pm
$65 per shooter if not in sponsorship package.
EVENT LOCATION
Colorado Clays
13600 Lanewood Street
Brighton, CO 80603

Leverage your Sporting Clay Event Sponsorship Dollar!
Colorado Child Care Contribution Tax Credit: When you or your business contributes funds to the Straight Shot Sporting Clay event, you promote and develop child care activities! In return, you can get a 50% Colorado Tax Credit, in addition to your regular state and federal contribution deductions. A contribution to Ability Connection Colorado's CREATIVE OPTIONS for Early Childhood Education programs qualifies for the tax credit. Please consult with your tax advisor for more information.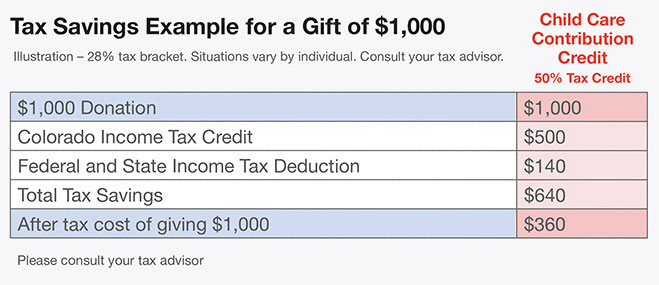 If you need your Child Care Contribution Tax Credit Certification (DR 1317) for a gift made to Creative Options, please contact Charee Ficco at 303-691-9339 x 1109 or cficco@abilityconnectioncolorado.org

Ability Connection Colorado recognizes that these past few year have been challenging for many industries…
We are absolutely thrilled that so many of you choose to support and participate in the event every year! With your support, and the support of new partners, we can continue to serve more than 46,000 Coloradans in the areas of Early Childhood Education, Employment Services and through five Statewide Family Support Services every year.
We value our existing partnerships and welcome opportunities to explore new ones!