PROUD TO BE CELEBRATING OUR 40TH ANNIVERSARY
Sunday, June 4, 2023
Arapahoe Community College
5900 S. Santa Fe Dr.
Littleton, CO 80120
Featuring
"The Evolution of the Automobile"
Come check out the special corral of vehicles from each decade spanning from 1900 to 2010.
JOIN US for a fun-filled day of automotive excellence featuring decades of prestigious and prized collector cars along with over 300 of the most spectacular automobiles ever built.
Bring the entire family to see the Rocky Mountain Region's most impressive vehicles that are sure to delight all ages.
Enjoy live music, fantastic food, kid friendly exhibits, a variety of vendors and more.
Sponsors/Vendors/Vehicle Owners/Attendees
JOIN US and help us make the Colorado Concours a huge success!  With your generous support we can continue to produce the largest Concours d'Elegance of its kind in the Rocky Mountain Region and support at-risk children and their families through Ability Connection Colorado's Creative Options for Early Childhood Education program. $.89 of every dollar raised goes directly into the program!
GET READY!
The Colorado Concours d'Elegance & Exotic Sports Car Show is large-scale, highly-visible and well attended. Local and regional car clubs showcase 300+ rare cars from early collectibles to the latest exotics. Many venture out once a year, for this show only, to help kids. These prestigious beauties are treasures that few people ever get to experience.
START YOUR ENGINES. THE CROWDS ARE COMING.
More than 10,000 spectators, car owners, sponsors and vendors turn out for a family-oriented day with live music, food, exhibits and special awards.
WHEN THEY ARRIVE, THE KIDS WIN.
Proceeds  from this spectacular event go Ability Connection Colorado's Creative Options for Early Childhood Education Centers. At five centers throughout Aurora and Denver, brighter futures are beginning. Over 400 children of all abilities and economic circumstances receive developmental screening and assessment services, individualized mental health services and comprehensive educational experiences each year. These services often result in the discovery of potential delays and the opportunity to receive critical early intervention.
AS A RESULT, THE OUTCOMES ARE AMAZING! OUR COMMUNITY'S FUTURE IS BRIGHTER BECAUSE CHILDREN WHO RECEIVE A HIGH-QUALITY EARLY CHILDHOOD EDUCATION HAVE A GREATER CHANCE OF GRADUATING FROM HIGH SCHOOL, ATTENDING COLLEGE AND HAVE BETTER HEALTH LATER IN LIFE.

Leverage your Colorado Concours Participation Dollar!
Colorado Child Care Contribution Tax Credit:
When you or your business contributes funds to the Colorado Concours d'Elegance & Exotic Sports Car Show, you promote and develop child care activities! In return, you may be able to get a 50% Colorado Tax Credit*, in addition to your regular state and federal contribution deductions.  A contribution to Ability Connection Colorado's Creative Options for Early Childhood Education program qualifies for the tax credit. *Please consult with your tax advisor for more information.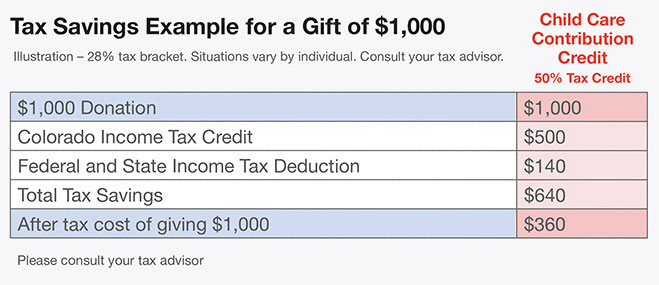 If you need your Child Care Contribution Tax Credit Certification (DR 1317) for a gift made to Creative Options, please contact Terri Armstrong at 303-691-9339 or tarmstrong@abilityconnectioncolorado.org.
Click here to read more about the Child Care Contribution Tax Credit (PDF).

History of the Colorado Concours d'Elegance & Exotic Sports Car Show
This event was the brain child of two Rocky Mountain Region Porsche Club of America members; Tom Scott and Stim Kennedy. In 1983, these individuals presented the idea for a car show to the Board of Directors of RMR with the idea of making the event a fundraiser for a deserving local charity. In the first two years, 1984 and 1985, the show was part of the "Carousel Days", a benefit for The Marvin Davis Children's Diabetes Foundation, and was held in the Cherry Creek Shopping Center parking lot. There were approximately 30 cars on display and the contribution for the charity was about $1,200. In 1986, the charity was changed to Cerebral Palsy of Colorado (name changed to Ability Connection Colorado in 2013) Children's Program when the Davis Family moved to California. The event was then moved to the University Hills Shopping Center and was there for four or five years. In 1993, the show was moved to the present location, Arapahoe Community College. Now in its 39th year, Colorado Concours has raised over $2.5M for the Creative Options for Early Childhood Education Program at Ability Connection Colorado.

2018 30 second Colorado Concours PSA:


Colorado Concours Facebook Feed