Welcome to the 2019
Colorado Concours d'Elegance & Exotic Sports Car Show
Countdown to Colorado Concours d'Elegance


Sunday, June 9, 2019 from 9am to 3pm
Arapahoe Community College


5900 S Santa Fe Dr, Littleton, CO 80120

Start your engines! The crowds are coming on June 9, 2019!
Ability Connection Colorado's Annual Colorado Concours d'Elegance & Exotic Sports Car Show is almost here.  The Colorado Concours is an annual event showcasing nearly 500 rare sports and classic cars, early collectibles and the latest exotics provided by local and regional car clubs.  Many of these cars venture out only once a year to help at-risk Colorado children.  These prestigious beauties are treasures that few people ever get to experience. 

Schedule
Bring out the whole family for an outside day filled with live music, exhibitors, vendors, food and fun. Join us in supporting Ability Connection Colorado's Creative Options for Early Childhood Education Centers.  The education centers provide early care, intervention, prevention, support and education services to at-risk Colorado families and nearly 600 infants, toddlers and pre-school children each year.  Children receive developmental screenings and assessment services, individualized mental health services and other services tailored specifically to their learning.
Pre Show
7:00 am – 9:00 am – Sponsor, Vehicle and Exhibitor Load-in and Set Up
On-site show vehicle registrations and pre-registered vehicles only, not open to the public
Event Hours
9:00 am – Gates Open to Public Spectators
8:30 am – 12:00 pm – Judging in Progress
1:00 pm – People's Choice Voting Ends
2:00 pm – 3:00 pm – Awards Ceremony
3:00 pm – Show Vehicles Depart
Food and Beverage Vendors
9:00 am – 3 pm
Off Broadway Café
Gyros King Food Truck
High Country Corn LLC
Jamba Juice
Mile High Cajun
The Cravings Truck
The Rolling Italian Food Truck
Wow Mobile Frozen Yogurt
Sponsors/Vendors/Vehicle Owners/Attendees
A heartfelt "Thank You" goes out to the many sponsors, vendors, vehicle owners, and attendees who make the Colorado Concours happen.  With their generous support we are able to produce the largest Concours d'Elegance of its kind in the Rocky Mountain Region and support at-risk children and their families through Ability Connection Colorado's Creative Options for Early Childhood Education program. $.89 of every dollar raised goes directly into the program!
Sponsor & Vendor Opportunities
Click HERE to get more information on how you can get your name in front of 14,000+ attendees by Sponsoring, Exhibiting, or Vending at this year's show!
Enter Your Vehicle
Click HERE to learn more about entering your vehicle.
Display Only: $50 per entry
Club Judged: $50 per entry
Concours Class Judged: $100 per entry
Entrance Tickets
Click HERE to purchase your discounted entry tickets. Save $1!
Adults: $9
Kid's 12 & Under: Free
Military, Police and Fire Personnel: Free with ID

Leverage your Colorado Concours Participation Dollar!
Colorado Child Care Contribution Tax Credit:
When you or your business contributes funds to the Colorado Concours d'Elegance & Exotic Sports Car Show, you promote and develop child care activities! In return, you may be able to get a 50% Colorado Tax Credit*, in addition to your regular state and federal contribution deductions.  A contribution to Ability Connection Colorado's Creative Options for Early Childhood Education program qualifies for the tax credit. *Please consult with your tax advisor for more information.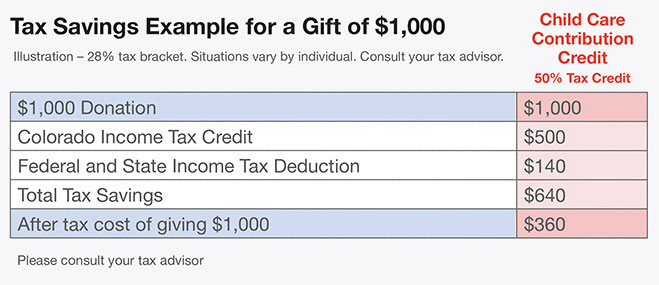 If you need your Child Care Contribution Tax Credit Certification (DR 1317) for a gift made to Creative Options, please contact Charee Ficco at 303-691-9339 x 1109 or cficco@abilityconnectioncolorado.org
Click here to read more about the Child Care Contribution Tax Credit (PDF).

History of the Colorado Concours d'Elegance & Exotic Sports Car Show
This event was the brain child of two Rocky Mountain Region Porsche Club of America members; Tom Scott and Stim Kennedy. In 1983, these individuals presented the idea for a car show to the Board of Directors of RMR with the idea of making the event a fundraiser for a deserving local charity. In the first two years, 1984 and 1985, the show was part of the "Carousel Days", a benefit for The Marvin Davis Children's Diabetes Foundation, and was held in the Cherry Creek Shopping Center parking lot. There were approximately 30 cars on display and the contribution for the charity was about $1,200. In 1986, the charity was changed to Cerebral Palsy of Colorado (name changed to Ability Connection Colorado in 2013) Children's Program when the Davis Family moved to California. The event was then moved to the University Hills Shopping Center and was there for four or five years. In 1993, the show was moved to the present location, Arapahoe Community College. Now in its 36th year, Colorado Concours has raised over $2M for the Creative Options for Early Childhood Education Program at Ability Connection Colorado.



NEW: 9News 30 Second Commercial for the 35th Annual Colorado Concours d'Elegance:

NEW: 2018 30 second Colorado Concours PSA:

Take a look at just a few of the cars from past Colorado Concours shows:


Colorado Concours Facebook Feed