Colorado Concours d'Elegance & Exotic Sports Car Show
2020 DATE TBD
COVID-19 Update June 16, 2020:
Dear Colorado Concours d'Elegance Community Members,
We thank all of the enthusiasts who have gathered time and again to renew long-standing friendships, celebrate great cars and give so generously to provide for the community's at-risk children and families.
We are currently looking at potential dates to proceed with the event in the early fall, and we will update you as more information becomes available. Again, the health and safety of our entrants, judges, show attendees, volunteers, staff, and community are our utmost priority, and we will not hold the event until we are sure we can have a fun and safe event.
CONCOURS is a CRITICAL FUNDRAISER that brings in over $100,000 each year for ACCO's five Creative Options for Early Childhood Education Centers. These centers RELY on the goodness of the Concours community to HELP FUND VITAL SERVICES for AT-RISK CHILDREN.
DID YOU KNOW the New Coronavirus Stimulus Law will HELP KIDS and YOUR WALLET?
How? You will get a charitable tax write-off, and ACCO can keep CO centers disinfected and fully staffed with critical support teams.
To encourage Americans to donate money to charity this year, the CARES Act effectively allows taxpayers to deduct up to $300 in monetary donations on their tax return for 2020. This write-off is available to taxpayers regardless of whether they itemize their deductions or choose to take the standard deduction for 2020.
We are grateful for the support we've received over the years from all who have participated and attended this great event. Without you, this show would not be possible. If there is anything Ability Connection Colorado can do for you, or if you have any questions, please email Terri Armstrong at TArmstrong@AbilityConnectionColorado.org.
Stay safe and stay connected,
Tom Scott & Steve Saliman, 37th Annual Colorado Concours d'Elegance Committee Co-chairs
Judith Ham, President & CEO Ability Connection Colorado
Terri Armstrong, Development Director Ability Connection Colorado

Start your engines!
Ability Connection Colorado's Annual Colorado Concours d'Elegance & Exotic Sports Car Show is almost here.  The Colorado Concours is an annual event showcasing nearly 500 rare sports and classic cars, early collectibles and the latest exotics provided by local and regional car clubs.  Many of these cars venture out only once a year to help at-risk Colorado children.  These prestigious beauties are treasures that few people ever get to experience. 

Schedule: TBD
Bring out the whole family for an outside day filled with live music, exhibitors, vendors, food and fun. Join us in supporting Ability Connection Colorado's Creative Options for Early Childhood Education Centers.  The education centers provide early care, intervention, prevention, support and education services to at-risk Colorado families and over 500 infants, toddlers and pre-school children each year.  Children receive developmental screenings and assessment services, individualized mental health services and other services tailored specifically to their learning.
Pre Show
7:00 am – 9:00 am – Sponsor, Vehicle and Exhibitor Load-in and Set Up
On-site show vehicle registrations and pre-registered vehicles only, not open to the public
Event Hours
9:00 am – Gates Open to Public Spectators
8:30 am – 12:00 pm – Judging in Progress
1:00 pm – People's Choice Voting Ends
2:00 pm – 3:00 pm – Awards Ceremony
3:00 pm – Show Vehicles Depart
Food and Beverage Vendors
9:00 am – 3 pm

Sponsors/Vendors/Vehicle Owners/Attendees
A heartfelt "Thank You" goes out to the many sponsors, vendors, vehicle owners, and attendees who make the Colorado Concours happen.  With their generous support we are able to produce the largest Concours d'Elegance of its kind in the Rocky Mountain Region and support at-risk children and their families through Ability Connection Colorado's Creative Options for Early Childhood Education program. $.89 of every dollar raised goes directly into the program!

Leverage your Colorado Concours Participation Dollar!
Colorado Child Care Contribution Tax Credit:
When you or your business contributes funds to the Colorado Concours d'Elegance & Exotic Sports Car Show, you promote and develop child care activities! In return, you may be able to get a 50% Colorado Tax Credit*, in addition to your regular state and federal contribution deductions.  A contribution to Ability Connection Colorado's Creative Options for Early Childhood Education program qualifies for the tax credit. *Please consult with your tax advisor for more information.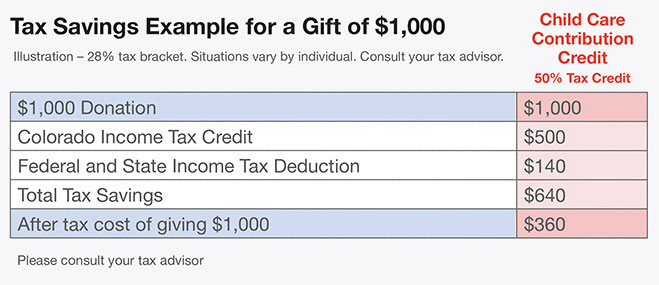 If you need your Child Care Contribution Tax Credit Certification (DR 1317) for a gift made to Creative Options, please contact Charee Ficco at 303-691-9339 x 1109 or cficco@abilityconnectioncolorado.org
Click here to read more about the Child Care Contribution Tax Credit (PDF).

History of the Colorado Concours d'Elegance & Exotic Sports Car Show
This event was the brain child of two Rocky Mountain Region Porsche Club of America members; Tom Scott and Stim Kennedy. In 1983, these individuals presented the idea for a car show to the Board of Directors of RMR with the idea of making the event a fundraiser for a deserving local charity. In the first two years, 1984 and 1985, the show was part of the "Carousel Days", a benefit for The Marvin Davis Children's Diabetes Foundation, and was held in the Cherry Creek Shopping Center parking lot. There were approximately 30 cars on display and the contribution for the charity was about $1,200. In 1986, the charity was changed to Cerebral Palsy of Colorado (name changed to Ability Connection Colorado in 2013) Children's Program when the Davis Family moved to California. The event was then moved to the University Hills Shopping Center and was there for four or five years. In 1993, the show was moved to the present location, Arapahoe Community College. Now in its 36th year, Colorado Concours has raised over $2M for the Creative Options for Early Childhood Education Program at Ability Connection Colorado.

2019 30 second Colorado Concours PSA:


Colorado Concours Facebook Feed